Latest
Saturday 11 February 2017 Enjoy a walk and talk on bush tucker and other useful plants with Rhonda Daniels at Joseph Banks Native Plants Reserve. In our first activity of the year, we'll look at a range of plants growing at the reserve from groundcovers to trees with uses as food, medicine and more. Get some ideas for your garden and kitchen.
Similar format as our walks on banksias and acacias in 2016. Walk about 1 hour. Stay for morning tea and a chat.
Time: from 9.45 am for 10 am start, Joseph Banks Native Plants Reserve, Manooka Place, Kareela
Free but please book: Rhonda Daniels ph 9521 8381 or rhdaniels@bigpond.com
This event is open to the public. Friends and family welcome.
Wednesday 15 February 2017: Charlotte Mills, a research student at the Centre for Ecosystem Science at the University of NSW, presents her research on the role of native mammals, such as the native hopping mice and the Burrowing Bettong, on seeds in the arid zone. The loss of native mammals which eat weedy shrub seeds may have contributed to changes in vegetation communities.
Free – Visitors welcome. We have native plants for sale from Ausplants Nursery, books to borrow, plant identification, plant raffle, a free supper – and friendly people to chat with. And you can buy our identification tool Coastal Plants of the RNP. Contact Leonie Hogue ph 9528 6083.
November 2016 edition with various reports on recent activities and new upcoming ones.
Go to the newsletter on this link and skip to the "For Your Diary" pages.
This letter was submitted to Sutherland Council re the amended proposed development that will result in unacceptable impacts to the area, adjoining one of the most important Australian conservation areas, the Royal National Park, now proposed for world heritage listing.
John Arney with help from Ian Hill has put together a list of plants identified on the Palona Cave walk from 8 March 2014.
Sutherland Group celebrated its 50th anniversary last year (2013). More than 80 current and former members of the group and representatives from other groups attended an enjoyable afternoon tea on Sunday 28 April 2013 at the Kareela Golf Club. A special page is dedicated to the celebrations.
Our conservation officer has prepared a submission to the Weed Management Review undertaken by the Natural Resources Commission.
Botanical walk through Bonnet Bay School bushland
Discover the delights of our local native bushland with a short walk and activity books designed by Dan Clarke, Sutherland Group member. Enjoy the signposted walk through the bushland grounds of Bonnet Bay Public School at 34R Tudar Rd, Bonnet Bay. Set up in conjunction with the Sutherland Shire Council through their Greenweb program, the Botanical Walk is a fantastic learning resource for students and the wider community.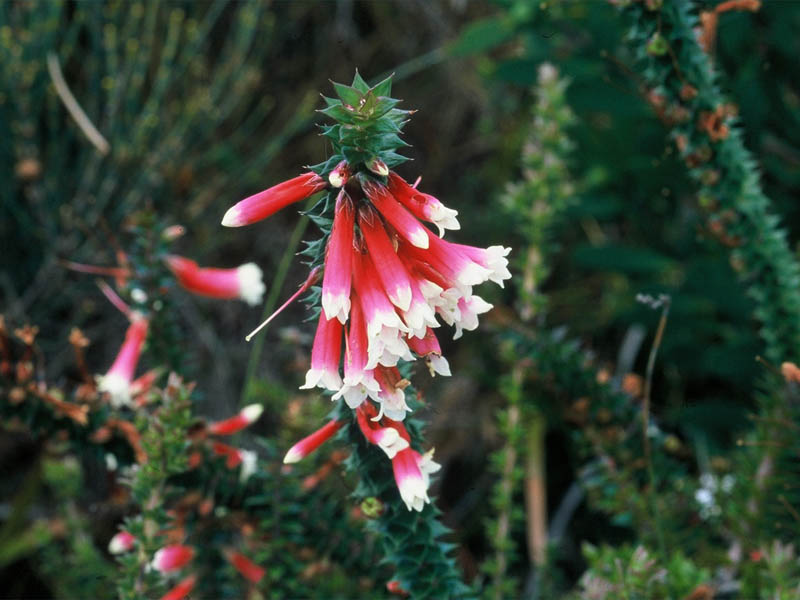 Update v3.2.0 now available! With details of over 300 plants plus more that 1200 photographs this interactive CD is a must for anyone interested in the native plants of the Sydney region
Although there is no version for Macintosh computers, a member shares his experiences with running the Coastal Plants CD in a Windows emulator on a Mac.
Where to buy Australian Plants, labelled plants in the Joseph Banks Plant Reserve and more.
Some members of the Sutherland Group had a well-deserved win at the Sydney Royal Easter Show.
Meetings
The Group meets every month except December and January on the third Wednesday of each month at 8.00pm.
Meetings are held at the Gymea Community Hall, 39 Gymea Bay Road, Gymea (map).
Each meeting generally has the following format
introduction by the Group President
guest speaker on an interesting topic (see next speaker or the full 2017 program.)
quick run down on upcoming events
short "cameo talk" eg how to propagate plants, things in my garden, recent walks or trips
an inexpensive raffle to win potted native plants (supplied by Ausplants)
supper and chat
If you can't make our meetings, why not go to a nearby group meeting?
See also our list of past speakers.
Contact: Secretary (see contact list)